lagesonum – number display for the LAGeSo Berlin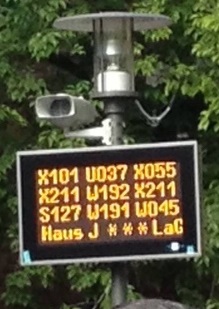 Participants of the Refugee Hackathon, together with coders4help, already started a project that should lessen the problem with the problem with the display of numbers at the LAGeSo already before the weekend in October. At www.lagesonum.de an online display with search function has been published. The database is filled by volunteers on site who add the numbers shown on the waiting list display to the database via an internet page suitable for mobile devices. The more different people add the same number, the more reliable the entry is considered.
The project is currently in public testing. The source code is on Github. Volunteers are highly welcome — before, during and after the hackathon weekend.
Press release about the start of lagesonum.de (in German)
@lagesonum on Twitter